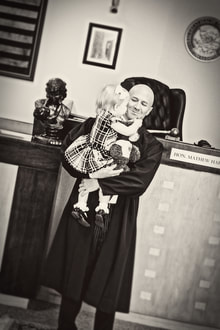 4 Pillar Platform
[1]
I am a proud native Nevadan
and
proud to bear the Harter name, a name well-respected in Southern Nevada established just shy of
6 decades
ago. My parents moved to Nevada in the early 1960s and raised 5 boys in our State. They are proud parents of a local, highly-esteemed OB/Gyn (
Dr. Steven Harter, M.D.
), a college professor, a corporate tax attorney, a law clerk and a judge. All 5 of us boys are graduates of the Clark County public school system. My interest and respect for the Nevada legal system began at an early age. As a child, I watched my father begin his law practice which continued for over 40 years, benchmarked by a reputation of character and integrity. Not only did he work for the Clark County District Attorney's Office, he was elected and served as the District Attorney of Esmeralda County. Our family lived a regular, middle class lifestyle. I always worked to support myself throughout my educational years. (Rather than duplicate them here, please see my
Resume/Background Page
for my scholastic and professional accomplishments.)
Jane Ann Morrison of
The Las Vegas
Review Journal
wrote an article earlier this year noting that the balance of our Supreme Court may be determined by the outcome of this election. The political difference between my opponent and I will clearly surface. Since I am running against the political
appointee
, I acknowledge that it is
my
burden to prove to you, the citizens of our great State, that I am the better candidate. For now, I will keep my platform to the following 4 main points:
[Green numbers are to the
Endnotes
below]
1. Strict Constructionist
(vs. Judicial Activist)
. "[E]ach judge comes to the bench with a
unique background
and personal philosophy
."[2] As can be seen on my
Resume
page, most of the legal articles I have written implore attorneys to follow the law and rules as
plainly
written. I strive to also do so in my decisions. There are at least 2 reported Nevada cases that seem to indicate that this is
not
my opponent's
personal philosophy
.
In the first case, as a district court judge appointee she issued an injunction stopping the layoff of public employees without
any
authority to do so whatsoever.
The real-life result
: taxpayers' dollars continued to be
unlawfully
expended for several months. No less than 10
amicus briefs
were filed in the case, most submitted by various prosecutors located throughout our State. In a 7-0 decision, the Court held that my opponent had "
conflate[d]" the law
, usurped power "reserved to the local government," that it was an issue "
clear[ly] and unmistakably . . . not to be decided by the court
" and because she "
lacked authority,
" her injunction was "
entered in error
."[3] It is simply noted that when my opponent issued her erroneous injunction, she just happened to be actively campaigning to retain her district court appointment and her actions (ultimately deemed
unlawful
) were coincidentally favorable to union employees. I was
personally
informed by 1 union supervisor that my opponent used this particular decision
this year
in seeking and ultimately obtaining their endorsement. Most of the public are unaware that when a candidate touts receiving an organization's endorsement (
e.g.
, police/firefighters with their badges/emblems), the endorsements are issued by their union boards (
vs.
a committee of the "rank and file")
primarily
based the union's self-serving issues. Let me be clear: I have
nothing
against unions. I was in a union. My grandfather was the President of the AFL-CIO for Southern Utah for numerous years. They have endorsed me in past elections. However, I would
never
conveniently not follow an unambiguous law and then later use a decision deemed
clear error
by a
unanimous
Supreme Court of Nevada as some sort of "badge of honor" to
indefinitely
obtain campaign endorsement(s) from the union(s).
The second case involved the former CEO of University Medical Center (UMC) who was criminally charged with 5 counts of theft and 5 counts of official misconduct.[4] Lacy Thomas was criminally charged with
steering
(
i.e.
, stealing) approximately
10 million dollars
in contracts to friends and associates that were either duplicative of other work or completely unnecessary. It was later alleged that the prosecutor had not provided all of the documentation on 1 of the multiple theft charges (the 1 involving "ACS"). Instead of only dismissing the 1 charge in dispute of the 10 charges, my opponent authored a 22-page decision taking the unusual step of
dismissing the entire case against Defendant
.[5]
The real-life result
: the loss of approximately
10 million dollars of taxpayers' money
to Defendant's cronies without reprise. In doing so, my opponent ignored the trial court's (Judge Villani) long-time familiarity with the case and declined to follow
established legal precedent
[6] that resulted in "overturn[ing] 35 years of settled (federal and state) law" as noted by the Dissent.[7] My opponent brazenly concluded her opinion by claiming that "the failure by the prosecution to disclose the documents was
intentional
."[8] The long-time prosecutor who served our community was later compelled to publicly clear his name.[9] This mind-numbing event
may
be related in part be due to my opponent's
unique background
as a Berkley-trained, San Francisco Public Defender.
2.
Cronyism
.
[10] It should
never
be tolerated, especially when it comes to the highest court in our State. My opponent's life partner (Ms. Michon Martin) served on the Governor's staff. Information was received that Ms. Martin was also a long-time, personal friend of the Governor's wife at the time, and long before my opponent's appointment. The Governor's wife and Ms. Martin were both raised in the Reno area. Unfortunately, several
far more experienced
applicants were
slighted
by my opponent's appointment.[11] Conversely, to show that I am not a hypocrite, my father attended
the same college
,
the same law school
and even
the same church
during
the
same time periods
as Senator Harry Reid. Yet, there was
never
any
attempt to solicit
any
political assistance or favoritism from this connection. I was not granted judgeships from my personal relationships. I
earned
my judgeship through years of hard work, tedious grass-root efforts, perseverance and ongoing support from our community.
3. Experience in Nevada law
. Nevada is my home. Practicing law in any other State was
never
a fleeting thought. I passed the Nevada bar exam on my first attempt and was licensed back in 1994. My opponent obtained her Nevada law license
14 years later
in 2008; the same year that I was elected to the bench. Our research indicates that as an attorney, my opponent was only involved in 1
mid-level
appeal in her practice in San Francisco[12]; she had
none
in Nevada. My opponent touts her attendance at a University of California college/law school. Other than her attendance and talk of being a skillful softball player during this period of time, her law school class ranking, scholastic accolades,
etc
. seem absent in a simple search for her educational achievements. Therefore, it is surmised that a plausible reason for her admission and retention in those educational programs was based on her athletic ability
versus
academia.[13]
In 2008, the year I was first elected to the Family Court bench, Jane Ann Morrison of the
RJ
forewarned that: "[T]he most important group of candidates are those in Family Court because they're the ones you're most likely to end up standing in front of as they make decisions about your divorce and child custody, the most contentious and significant issues many will ever face." The
2017 Annual Report of the Nevada Judiciary
continues to verify that statistically this fact remains true. Most are
unaware
that as far as district court filings,
Family Court case filings are more than double compared to all of the civil and criminal cases combined
.
[hyperlink to statistics]
Yet, to date there has
never
been a Family Court judge serve on our appellate courts. As a result, this has proven to be a
daunting
area of law to them.[14] Although I have an undergraduate degree in business and my family has owned multiple businesses throughout the years, Family Law is currently my forte.
Family Court cases are
not
the overriding issue in this race, just a severly neglected area that is most likely to impact your family members, friends,
etc
. As my
Resume page
indicates, my lifetime personal and professional experiences are vast.
4. Efficiency
Since taking the bench, I have a long history of being timely not only with my weekly case management, but also in issuing decisions. My degree in
business management
from the University of Nevada, Las Vegas (UNLV) and real life experience as a manager have proved to be most beneficial. The long-time legal adage of
justice delayed is justice denied
is particularly true in Business cases and Family Law cases involving children.[15] Let me provide a recent example of an actual, unnecessarily delayed case by my opponent. In
Arcella v. Arcella
, the issue in summary involved deciding where the child at issue ("R.A.") would attend middle school for the 2016-17 school year.
[16]
The case history indicates that the case was earmarked to be "
Expedited/Fast Tracked.
"
[
hyperlink to history
]
The appeal was filed on October 17, 2016. My opponent did not issue her decision until December 26, 2017,
over 14 months later
. To add insult to injury, her ultimate decision was to send the case back to the district court to hold a trial. Therefore,
assuming there is not another appeal after the trial,
a final decision of where R.A. will attend middle school
may
be made just in time to begin the
third/final year
of middle school.
If
an appeal is taken, the issue becomes moot as R.A. will then be headed on to high school.
Likewise, a business should not have to put everything on hold and wait for years to see how the outcome of a pending appeal may impact their day-to-day operations.
A recent example of an
actual
,
expedited appellate action
is
The Las Vegas
Review Journal
autopsy case whereby a published opinion was issued by the Court
in just over 2 weeks
.
[17]
This is proof that it is
definitely
an achievable goal, especially on issues that are time sensitive such as which school a child should attend. The 2017 published statistics further indicate that on average, each justice authored 13 opinions per year (or 1 decision per month average;
per curiam
decions
were
included). [
hyperlink to statistics
] However, this
excludes
the numerous, simple, 1-page boilerplate/form orders that are issued every week or so in bulk (some signed by only the Clerk of the Court). [
hyperlink to examples
]
On behalf of our Committee, my family, and myself, I humbly hope that I can earn your support this year. I will continue to faithfully serve our home State to the best of my ability. I would really appreciate any and all support this year -- whether it by via donation on our Donation Page, or simply by telling 10 friends/family members to in turn share their support with others, or sharing your support via social media -- all help is greatly appreciated. Since there will only be 2 candidates in this race, I will not be on the Primary Election ballot in June 2018; I will only be in the General Election ballot in November 2018. Despite being on the later ballot, I would appreciate not delaying in your support to assist with us with the campaign process so that we can begin campaigning to the best of our ability. Again, thank you very much for your support. Sincerely –
---
ENDNOTES
:
​
[1].
This s
tatement
is issued in accordance with the
Nevada Code of Judicial Conduct
(NCJC). NCJC 4.1,
Comment
[11] states: "Canon 4 allows candidates to conduct campaigns that provide voters with sufficient information to permit them to distinguish between candidates and make informed electoral choices."
NCJC 4.1,
Comment
[13] further states: "[S]tatements or announcements of personal views on legal, political or other issues . . . [are acceptable, but must] acknowledge the overarching
judicial obligation
to apply and uphold the law, without regard to personal views
."
I readily acknowledge this ongoing judicial obligation
throughout, herein, and during this campaign process.
[2].
NCJC 2.2,
Comment
[2] which also reiterates that "a judge must interpret and apply the law without regard to whether the judge approves or disapproves of the law in question."

[3].
City of Reno v. IAFF, Local 731
, 340 P.3d 589 (Nev. 2014).
[4].
Thomas v. State
, 133 Nev. Adv. Op. 63 (2017).
[5].
One of my opponent's colleagues recused from the case because of a personal relationship.
Id
. at n. 1.
[6].
Id.
at
n. 7.
[7].
Id. Dissent at 1.
[8].
Id.
at 19.
[9].
[
Hyperlink to RJ article
]
("Nevada Supreme Court gets it spectacularly wrong in Lacy Thomas case").

[10].
NCJC 4.1,
Comment
[14] states that a judicial candidate may address the issue of "avoid[ing] favoritism in appointments and hiring."
[11]
. Most are unaware of how the
Judicial Selection Commission
operates. "The Commission is composed of seven permanent members—the Supreme Court Chief Justice,
three non-attorneys appointed by the Governor
, and three attorneys appointed by the State Bar of Nevada. Neither the Governor nor the State Bar may appoint more than two permanent members from the same political party, and cannot appoint two members from the same county. For District Court vacancies, two temporary members are appointed from the judicial district where the vacancy occurs -- a non-attorney
by the Governor and an attorney by the State Bar -- bringing the Commission membership to nine."
2017 Annual Report of the Nevada Judiciary
, p. 16. It is simply noted that it is
curious
that only 7 Commission members are involved in an appointment to our Supreme Court (3 appointed by the Governor), but it takes 9 for a lesser district court appointment. As a total of 3 finalists are chosen to submit to the Governor, statistically it does not take an actuary to determine that the odds of favoritism could easily be increased. See NCJC 4.1,
Comment
[14].
[12].
Parra v. City and County of San Francisco
, 144 Cal.App.4th 977, 50 Cal.Rptr.3d 822 (Cal.App. Dist.1 2006) ("[T]he notorious incident in November 2002 involving three off-duty San Francisco police officers which came to be known as 'Fajitagate.'").

[13].
https://www.uchastings.edu/news/articles/2018/01/justice-lidia-stiglich.php
; NNWLA Newsletter, Vol. 20, Issue 4 (April 2016), p. 3.
[14].
In
Hernandez v. Alonso
(appellate case # 70675), after the Court of Appeals of the State of Nevada solicited briefing from the
Family Law Section
of the Nevada State Bar (FLS)
,
they then balked and declined to address the issue of custody.
See
n. 3. Justice Tao expressed frustration in his Dissent stating: "I don't know which of these [custody interpretations] the Nevada Supreme Court intended."
Id
. at 12.
[15].
"In this type of custody dispute, justice delayed is justice denied; slow justice is not good justice. Neither can be tolerated."
Watkins v. Nelson
, 163 N.J. 235, 748 A.2d 558 (2000) (also noting that in custody disputes "
any appeal
. . .
should be concluded in six months
.").
[16].
133 Nev. Adv. Op. 104 (2017). Further, my opponent unnecessarily turned her decision into a Constitutional commentary on the First Amendment. The simple fact is the district court did not make findings to justify her decision, unfortunately a common error. It should have been feasible to e
xpeditiously
issue an order that a proper evidentiary hearing must immediately be held (since that was the ultimate outcome of the decision anyway). Since a religious school was involved, a
simple reminder that First Amendment issues
may
apply could have been done in a few sentences.
[17].
The Las Vegas Review Journal v. Eighth Judicial District Court
, 134 Nev. Adv. Op. No. 7 (2018).